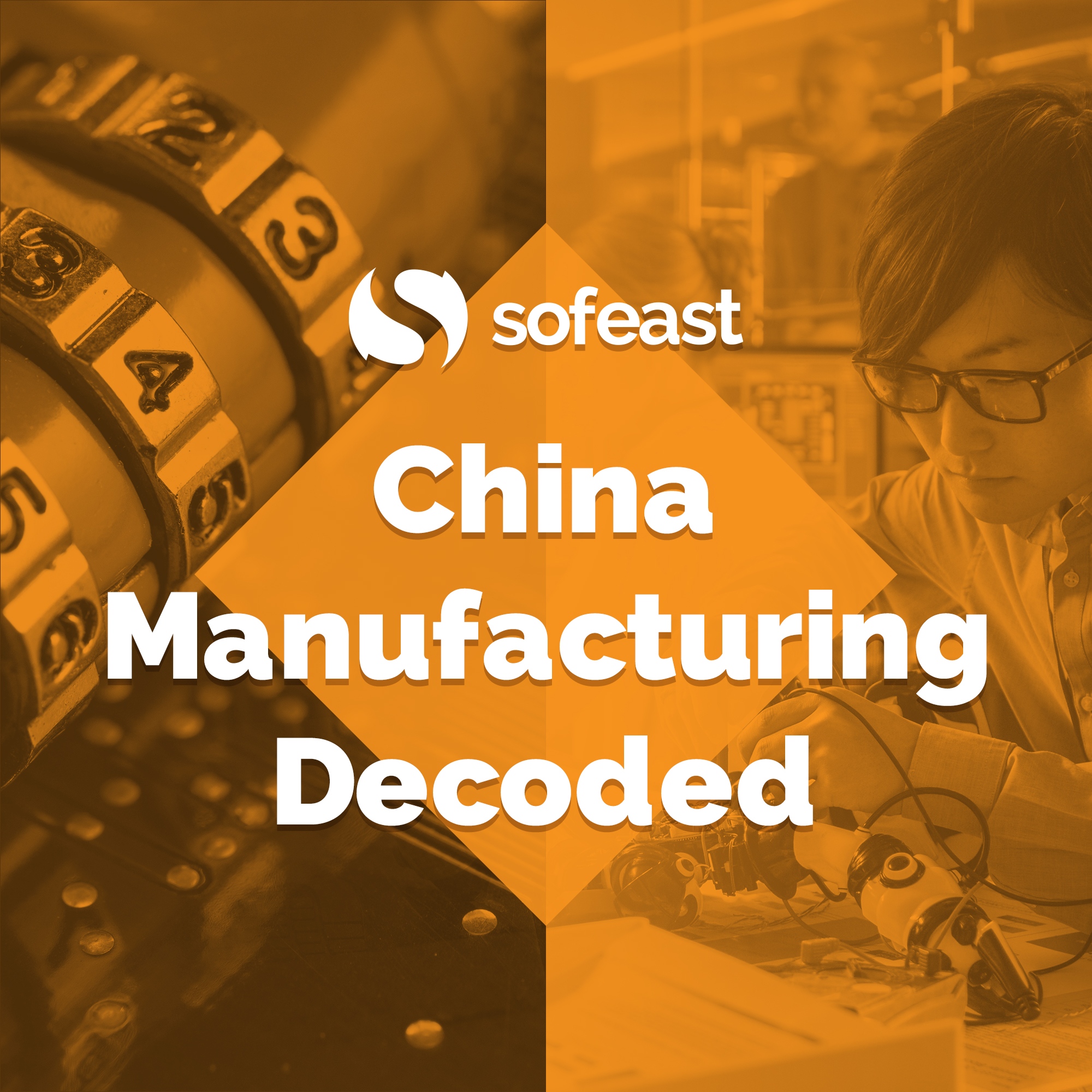 Join Renaud Anjoran, Founder & CEO of Sofeast, in this podcast aimed at importers who develop their own products as he discusses the hottest topics and shares actionable tips for manufacturing in China & Asia today! WHO IS RENAUD? Renaud is a French ISO 9001 & 14001 certified lead auditor, ASQ certified Quality Engineer and Quality Manager who has been working in the Chinese manufacturing industry since 2005. He is the founder of the Sofeast group that has over 200 staff globally and offers services (QA, product development & engineering, project management, Supply Chain Management, product compliance, reliability testing), contract manufacturing, and 3PL fulfillment for importers and businesses who develop their own products and buyers from China & SE Asia. WHY LISTEN? We'll discuss interesting topics for anyone who develops and sources their products from Asian suppliers and will share Renaud's decades of manufacturing experience, as well as inviting guests from the industry to get a different viewpoint. Our goal is to help you get better results and end up with suppliers and products that exceed your expectations!
Episodes
Friday Jan 22, 2021
In This Episode...
Adrian catches up with Andy Bartlett, an experienced British product designer who has 25 years of experience in product design, development, and working with manufacturers in China to discuss project management best practices when dealing with Chinese suppliers with a special focus on Andy's take on this from a product design perspective. He covers project management tips and techniques, building good relationships, IP protection, and much, much more!
More about Andy Bartlett
Andy has a deep experience in consumer electronics, toys, and more. Several of Sofeast's clients have worked with Andy with good results. He was Product Design Manager at Worlds Apart for 14 years and has designed products for Disney, LEGO, Hasbro and Mattel including Scruff-a-luvs and GoGlow. 
Show Notes
00:00 - Introducing the episode
01:23 - Andy's Bio
02:05 - The 2 ways of engaging with Chinese suppliers: Contract Manufacturers (your 'factory') and Development Houses - When you're developing a new product to bring to market you're likely to work directly with a factory in China and you'll need to go through all of the product development work that has been done and make sure they can deliver, or, if you're at an earlier stage on your project, you may work with a development house first who help you with the development work such as on the product concept and its functions and on NPI work such as deciding on manufacturing processes, techniques, and more. 
03:36 - Dealing directly with a factory as a designer when performing the project management - 2 challenges: 1. Protect your interests (design intent) and be clear about what you want to achieve. 2. Structure, organisation, and well-controlled communication channels. 
06:22 - Dealing with a development house from a design perspective - about managing costs, schedule and exploring opportunities (which they will be more interested in than many factories who are incentivised to get to production ASAP), but still getting to the factory in time to produce your goods on schedule. 
07:55 - The focus on getting to production by factories and why creative people sometimes don't know when to stop 'development.' 
09:10 - At what point do you know that your product development is mature enough that you can start production? 
12:14 - Why approving the tooling is one of the worst times in the NPD process for anyone who's developing a new product.
13:26 - Exploring some best practices when working with a factory or a development house (good for hardware startups who are new to this). New product development is a tough process, so building a good working relationship is really helpful. Look for good communication and contacts whom you can trust (in factories this can be harder) and an inquisitive spirit that is willing to try new things and solve problems.
17:38 - How communication and building relationships have been affected by the challenges of the pandemic. In-person contact is the best way to work with your Chinese suppliers, but in lieu of that, video conferencing is a key tool.
19:47 - The culture of saying 'yes' to everything you request in China and how to combat it with notes and a system to check that suppliers are on target. Importers need to be careful of this, as yes doesn't always mean yes. Therefore any meetings should be followed up with written notes that can double-confirm a supplier's intent and ability. Google suite of products doesn't work in China, but you can create a system to track and manage development issues. Microsoft's software is usually adequate for this. Emails aren't as they're quite ignorable. Build the culture of 'track & trace' and always come back to suppliers to check that they are resolving your question and if it's truly a 'yes,' or in fact a 'no.'
24:44 - How best to manage CAD data and not lose the integrity of the modelling. A flexible pause and review approach to 3D data is a good use of time as this will be worked on until late in the development process.
27:09 - How about IP protection? It's context-driven. If you're in a long-term stable relationship with a supplier you should already have the trust that they use IP responsibly. With a new supplier, do they take steps to protect their other clients' confidentiality seriously if you're visiting their factory to tour it? If so, that's a good sign. If a trusted supplier recommends another supplier this may be a good sign. You should take steps to control CAD data by using software to minimize the amount of data the new supplier can see at an early stage.
30:57 - Why keeping your cool, even when things go wrong, is really important. Maintaining calm and respectfulness is a very valuable skill when dealing with Chinese suppliers, this includes sending a heated email. Consider the context of not being able to visit the supplier and see how busy they are etc, it may be easy to get the wrong idea about what is happening so keeping cool is important. 99% of the time, your supplier is doing the best they can. If your goal is to get the best possible product developed, confrontation with your partners in China may be counterintuitive.
36:06 - The first order with a factory is hard as that's where all the work goes and the most stress occurs, but hang in there! Followup orders probably require 10% of the effort and become easier, perhaps with just small tweaks to the product. So if things are tough initially, it will get easier in future.
38:01 - Wrapping up and Andy's key takeaway for designers of new products. Passionate designers need to remember that it's 1% inspiration and 99% perspiration, so remember to be calm and disciplined.
Related content to read next...
Get in touch with us
Get even more great content or assistance with your own project
Subscribe to the podcast 
There are more episodes to come, so remember to subscribe! You can do so in your favorite podcast apps here: