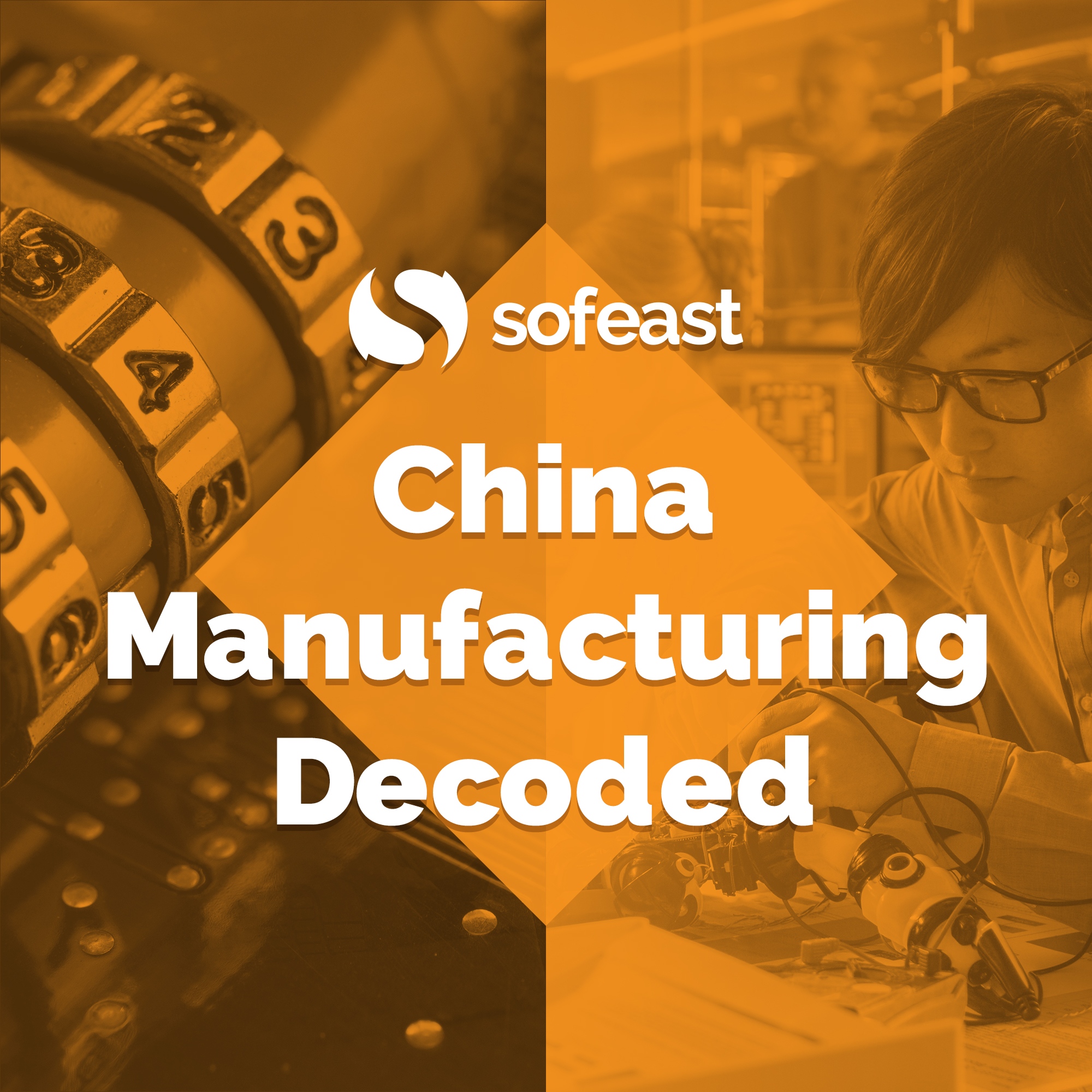 Join Renaud Anjoran, Founder & CEO of Sofeast, in this podcast aimed at importers who develop their own products as he discusses the hottest topics and shares actionable tips for manufacturing in China & Asia today! WHO IS RENAUD? Renaud is a French ISO 9001 & 14001 certified lead auditor, ASQ certified Quality Engineer and Quality Manager who has been working in the Chinese manufacturing industry since 2005. He is the founder of the Sofeast group that has over 200 staff globally and offers services (QA, product development & engineering, project management, Supply Chain Management, product compliance, reliability testing), contract manufacturing, and 3PL fulfillment for importers and businesses who develop their own products and buyers from China & SE Asia. WHY LISTEN? We'll discuss interesting topics for anyone who develops and sources their products from Asian suppliers and will share Renaud's decades of manufacturing experience, as well as inviting guests from the industry to get a different viewpoint. Our goal is to help you get better results and end up with suppliers and products that exceed your expectations!
Episodes
Thursday Jul 23, 2020
In this episode...
This is the fourth part of our series on vetting Chinese suppliers which loosely follows the blog posts in this series that Renaud wrote before.
In this episode, we're discussing your subjective impressions when you finally go out to a supplier and visit them (or the questions your factory auditor should be answering if you have sent them in your stead, which is perhaps more likely during the coronavirus pandemic when travel to China isn't possible).
So you'll want to use this opportunity to check the facts with your own eyes, and Renaud is going to give you a number of tips about this which are split into three categories:
Factory fit 
Factory management
Factory setup and condition
Show notes
Introduction - This episode covers a fairly loose list of topics that you need to pay attention to when visiting a supplier. (START to 3:30)
Factory fit (3:30 to 15:40)
Factory size - Huge suppliers may have a good reputation, but if your orders only make up a fraction of their sales they may not provide you with the best service as you are not a priority, therefore finding a balance is needed. Size is the most important factor to consider when assessing a supplier's fit. (4:25 to 6:16)
Seasonality - If your supplier has many customers with the same seasonality (requiring products to be made at the same time), this could lead to delays and for your order being bumped in favour of larger customers. (6:16 to 7:07)
Focus - Who is the supplier usually dealing with? Their requirements have an impact on their focus - for example if their number 1 customer generally requires fairly low-quality goods, but you need them to produce goods at a very high quality, then their focus isn't a good fit for your needs. (7:07 to 8:36)
Keeping key processes in-house - if one production process is very critical to your products, choose a manufacturer who keeps this in-house instead of subcontracting it. (8:36 to 9:03)
The contact person - who will you be working with? If they're not experienced it could cause you trouble later. Don't base buying decisions alone on how effectively the representative communicates, as great suppliers may not always have staff who speak good English. (9:03 to 11:38)
Respect for IP - Does the supplier show you a showroom full of different designs? Did they develop all of these products, or are they 'touting' the designs of their current or former clients? If this is the case, how can you be sure that your product design and IP won't be next? (11:38 to 12:25)
The pros & cons of working with large or small suppliers - this is related to finding a supplier whose size is a good fit. Large = good resources and facilities, but a possible lack of attention. Small = good access to management, your order will be valued, but they may have poor structure and a lower level of experience, a poorer network for sourcing materials and components, etc. (12: 25 to 15:40)
Factory Management (15:40 to 23:00)
Are the managers/production supervisors/team leaders present on the factory floor? - why this is important in terms of how well the supplier has control over its production and can make improvements. Do they email instead of verbally communicating with the team? This affects productivity and shows poor leadership. (15:40 to 17:30)
Are any metrics displayed? - this demonstrates an overall understanding of the present performance and grasp of where the supplier is at right now. (17:30 to 18:20)
Are operators paid the piece or by the hour? - by the piece is a red flag as this pay scheme causes a lot of problems such as operators hurrying to produce quantity without being so concerned about quality. (18:20 to 18:52)
Hands-on management who look to improve things are positive - they're likely to be a sustainable supplier over a longer period. (18:52 to 19:45)
Management who show an interest in and understanding of finances and profit point to being a sustainable supplier - suppliers who try to make a sensible profit and understand their costs will have a more secure business and be more sustainable over time (19:45 to 23:00)
Factory Setup & Condition (23:00 to END)
This is what you should be looking for when in the factory:
Cleanliness - this reflects on how well the operation is run. (23:00 to 23:51)
Are products in contact with the ground? - shows how well your products may be respected, or not. Are electronic parts in contact with non-ESD surfaces or packaging. This demonstrates their culture of quality and how well they'll pay attention to your quality standard. (23:51 to 24:42)
How are the operator's toilets? Clean, have soap? - seems strange, but this speaks to the culture of the supplier and whether they're concerned with improving conditions for workers and are a forward-thinking supplier. (24:42 to 25:37)
How is the condition of the equipment? - again, this shows how concerned they are with the upkeep and maintenance, as newer or well-cared-for equipment will affect your product quality. (25:37 to 27:50)
Is the testing equipment maintained properly? - if the supplier truly pays attention to quality their testing equipment should be well-maintained. If not, are they capable of producing products which reach your expectations on quality? (27:50 to 28:28)
Is the owner's car very expensive? - it's normal to see fancy cars in China, but if the factory is relatively shabby and the owner is driving a Rolls Royce this could show that he is trying to suck the maximum cash out of the business and is therefore not necessarily in it for the long run. (28:28 to 29:20)
Organized factory layout & operator PPE - the management is serious about organization and safety which is a good sign. Safety goes hand-in-hand with quality and staff improvement. (29:20 to 32:15)
Safety and Social Compliance - personal safety is a bigger problem than child labour in countries like China and Vietnam. If your suppliers don't take it seriously, can this reflect badly on your brand were something to happen? (32:15 to 33:12)
Management style - how operators are treated and whether they're in fear of management, if they have younger staff who will be faster and more adaptable tells you how dynamic the company is, and is the work broken into very short cycles? If so, it's lazy management with little process-engineering and low efficiency. (33:12 to 35:16)
Their in-house capabilities - do they do a lot of the work in-house, or they're just packing boxes? If the latter they may a trading company! (35:16 to 35:45)
Check for shipping marks on packages - this will give you an idea of the kinds of customers they work with which can give you an indication of the level of price and quality they usually work with (35:45 to 37:20)
Summary - also mentioning how factory auditors can help answer these questions for you and take additional pictures should you choose to send them in instead of visiting yourself (37:20 to END)
*****
You will also find this long list of questions to ask useful, as well: 24 questions to ask during a Chinese factory visit.
In parts 1-3 of this series, we've covered what bad suppliers look like, how to verify their legitimacy & suitability with numerous tips and questions, and how and why to assess their engineering capabilities. 
Catch up with them here:
All these steps take place before the factory visit, which we've covered in this episode. 
Get in touch with us
Get even more great content or assistance with your own project