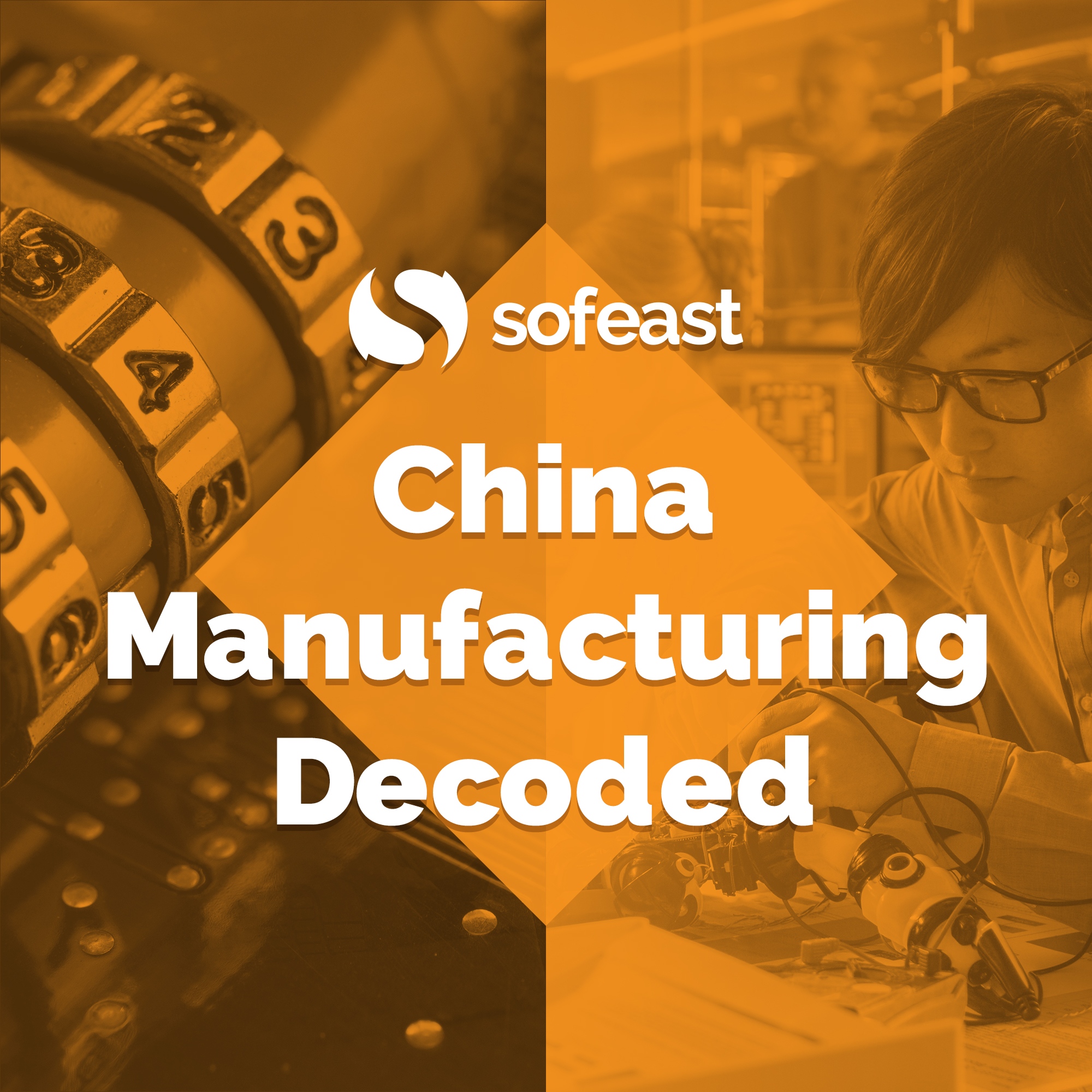 Join Renaud Anjoran, Founder & CEO of Sofeast, in this podcast aimed at importers who develop their own products as he discusses the hottest topics and shares actionable tips for manufacturing in China & Asia today! WHO IS RENAUD? Renaud is a French ISO 9001 & 14001 certified lead auditor, ASQ certified Quality Engineer and Quality Manager who has been working in the Chinese manufacturing industry since 2005. He is the founder of the Sofeast group that has over 200 staff globally and offers services (QA, product development & engineering, project management, Supply Chain Management, product compliance, reliability testing), contract manufacturing, and 3PL fulfillment for importers and businesses who develop their own products and buyers from China & SE Asia. WHY LISTEN? We'll discuss interesting topics for anyone who develops and sources their products from Asian suppliers and will share Renaud's decades of manufacturing experience, as well as inviting guests from the industry to get a different viewpoint. Our goal is to help you get better results and end up with suppliers and products that exceed your expectations!
Episodes
Friday Feb 19, 2021
In This Episode...
Adrian and our CEO, Renaud, discuss how the current political tensions between the USA and other Western nations and China are affecting manufacturing and provide some more general observations on the 'Cold War' trends of containment and decoupling that seem to be gathering strength.
This topic stemmed from this recent Forbes article which suggested that Americans polled would be prepared to pay 20% more for goods manufactured in democracies...No prizes for guessing which country it casts doubts over.
So, how serious is this 'Cold War' that's developing, what are we seeing on the ground in China, what could be overstated by the media, and is it really causing a lot of upheaval in manufacturing and an exodus from China of Western brands?
Show Notes
00:00 - Introducing the episode 
01:13 - Discussing the recent Forbes article titled: Americans Fine With Paying More If Trading With Democracies, Not China - how realistic is this and has the poll been couched in an inflammatory language to elicit a negative response?
06:09 - Militant consumerism - Some aspirational brands, such as Apple and Nike, have lost customers due to high-profile corporate social responsibility issues, so they make efforts to control supply chains strictly. But 'China' seems to be more worrying for governments than consumers, and Chinese made goods are almost always generally accepted to be trustworthy and good enough quality these days by consumers and political factors, such as China's governance, doesn't really affect buying decisions by consumers much yet.
08:43 - Could this type of news constitute a threat to 'Made-in-China' products by stirring up anti-China sentiment among militant consumers? - militant consumers have already started to push back against brands with an environmental impact such as apparel, cosmetics, cleaning products, etc. Could China be put in their sights if they're continually exposed to news articles like this?
10:06 - The 'real effect' militant consumers are having on apparel - brands are paying more attention to environmental impact due to the concerns of militant consumers, but many fast-fashion brands are just 'greenwashing' their brands for marketing purposes rather than making meaningful changes. 
15:59 - The sentiment towards China - this has been on a downward trend since before the Trump administration and, enhanced by him, the prevailing attitude towards China in the USA is now negative. Australia, Europe, and the UK have also taken a stand against China in different ways recently and the results haven't always been positive for them. China's global PR isn't always the best and the leadership tend to be more focused on what Chinese people think of them than outside countries which doesn't help change attitudes quickly.
21:04 - Why a 'Western' viewpoint tends to cast China in a poor light - this coupled with politicians and the media means that sentiment towards China may not improve for some years to come.
23:55 - The growing 'Cold War' trend between the USA & China - what does this mean? Containment and decoupling activities are becoming more prominent. Is the media being used to contain China right now (including articles like that mentioned earlier)? Also, are we seeing real-world Cold-war scenarios where current tensions in the South China Sea, India, and also Myanmar (where the US-friendly government has been toppled by the military who are friendly to China), for example, mirror the days of the Cold War between the USA and the USSR where there were side conflicts rather than a war between the 2 superpowers?
28:25 - Is it 'wrong' that China is building up global power and influence, especially in Asia? - the Western media often paints this as a worrying or negative thing, but if we look at this situation from outside of the Western viewpoint, this is nothing that hasn't been done before by Western superpowers. What would Western countries do if they were surrounded by an opposing military power in the same way that China is? Renaud also makes some interesting points about China's government - they're making great efforts to build an extremely professional and modern government. The problem is, it seems difficult to imagine a time when China and the West will understand and agree with each other (this is manifested in the recent mistrust on both sides surrounding the WHO investigation in China regarding the origin of the coronavirus).
33:18 - Decoupling. Is this something that's having a strong effect on manufacturing in China yet? - in electronics, there has been almost no decoupling (this is echoed by Richard Barnett in this interview). At most, there has been some movement of final assembly to places like Vietnam and in some cases, some new products have been developed in Taiwan rather than China. The apparel industry has already decoupled from China to a large extent, but this was happening long before today's tensions. 
Even where supply chains have been relocated, the final assembly is a relatively low value-add and components are usually still made in China.
38:51 - Finding countries that can provide a complete supply chain for most products outside of apparel is unlikely...yet. Vietnam is mooted as a modern success story and a potential alternative to China, but it's still a tiny resource in comparison to its large neighbor.
39:57 - Wrapping up
Related content...
Get in touch with us
Get even more great content or assistance with your own project
Subscribe to the podcast 
There are more episodes to come, so remember to subscribe! You can do so in your favorite podcast apps here: