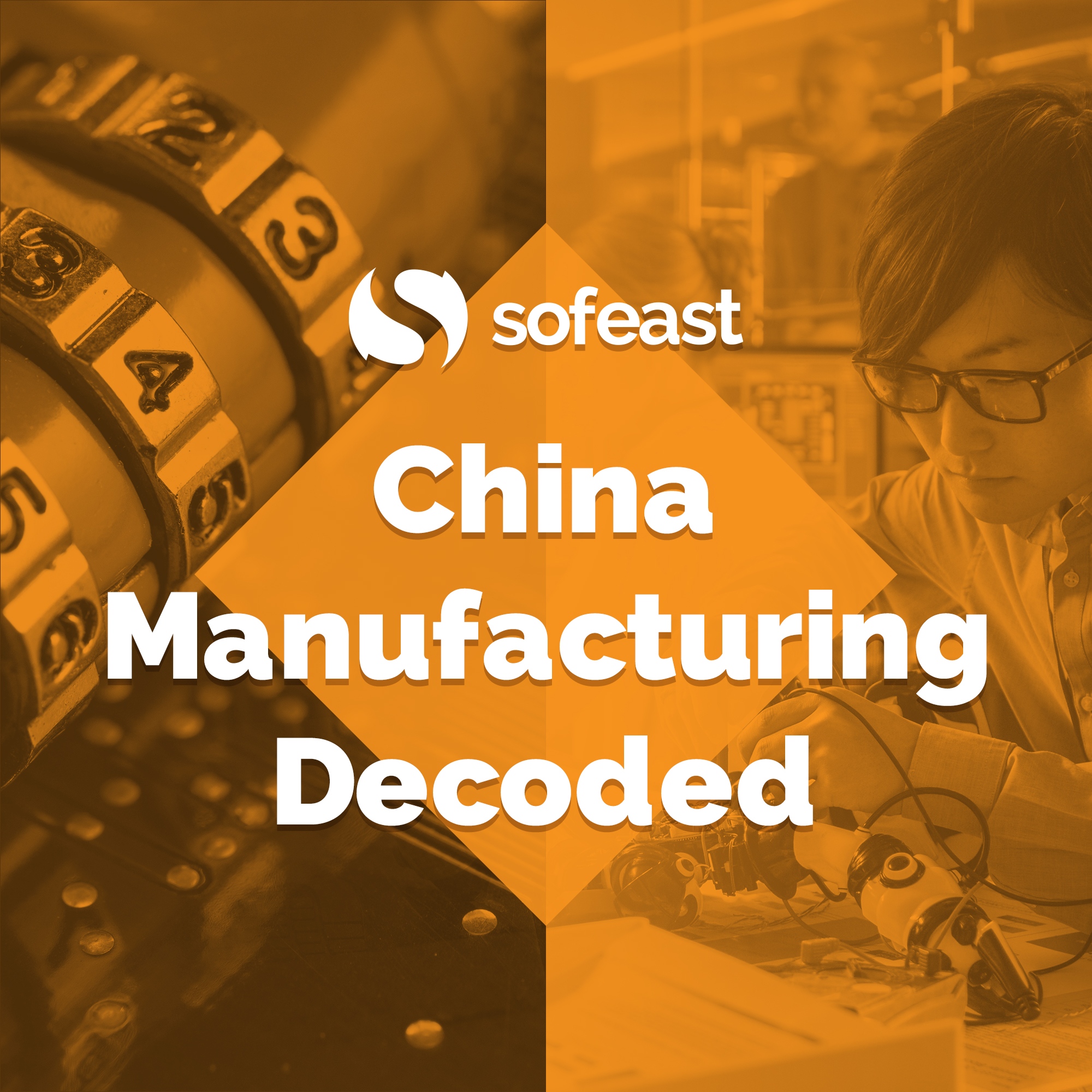 Join Renaud Anjoran, Founder & CEO of Sofeast, in this podcast aimed at importers who develop their own products as he discusses the hottest topics and shares actionable tips for manufacturing in China & Asia today! WHO IS RENAUD? Renaud is a French ISO 9001 & 14001 certified lead auditor, ASQ certified Quality Engineer and Quality Manager who has been working in the Chinese manufacturing industry since 2005. He is the founder of the Sofeast group that has over 200 staff globally and offers services (QA, product development & engineering, project management, Supply Chain Management, product compliance, reliability testing), contract manufacturing, and 3PL fulfillment for importers and businesses who develop their own products and buyers from China & SE Asia. WHY LISTEN? We'll discuss interesting topics for anyone who develops and sources their products from Asian suppliers and will share Renaud's decades of manufacturing experience, as well as inviting guests from the industry to get a different viewpoint. Our goal is to help you get better results and end up with suppliers and products that exceed your expectations!
Episodes
Friday Feb 05, 2021
In This Episode...
Adrian interviews Richard Barnett, CMO of SupplyFrame, an AI-based SaaS solution which enables sourcing insights and decision support that improves the performance and resilience of electronics supply chains. 
US-native Richard has decades of experience in the electronics field and has clocked many years in Asia, so he was an ideal person to discuss supply chain risks faced by today's importers of Asian electronic products and components in 2021 and risk-management techniques and advice that can help you become less affected by risks, such as the coronavirus pandemic we have been facing, political issues, and more.
One particularly interesting topic that he raised is how design & procurement influence the risk profile of the resulting productions.
Show Notes
00:00 - Introducing the episode - topics around how to manage innovation, what do we expect post-covid across the global electronics value chain, and more
01:57 - Brief introduction of Richard and Supplyframe.com
04:50 - How does Richard's experience at Supplyframe fit in with an importer of electronics who is developing a new product? For a high-tech startup, for example, their solution would help provide new forms of intelligence to accelerate product design, identify and reduce risks of key component selections in the design phase, and think about how to align to ramp to volume considering key risks in the electronics supply value chain.
07:13 - Why risk reduction is more important than ever today and how the trend is becoming more widespread. The pandemic and the associated manufacturing shutdown in China in early 2020 forced many importers to react and work on making their supply chains more resilient, especially those in an industry where demand dropped off or ramped up quickly. Many importers have now been assessing how to improve supply chain resilience based on what they've learned and experienced which previously they perhaps didn't - this is 'the next normal.'
10:27 - A list of some of the risks which have exhibited themselves recently that importers should try to avoid. The pandemic spurred a number of risks recently that were unforeseen, but before the pandemic even occurred, there were key risks in the high-tech and electronic value supply chains such as US/China trade war tariffs, Korea and Japan trade tensions, FAB production capacity, memory production capacity, and more.
13:08 - If you've been hit by the risks described, what's the way out of this for importers? Optimizing your supply chain with flexibility, thinking through where opportunities for risk-sharing with a key manufacturer in terms of inventory or lead time, for example. Examining the multi-tier supply chain to find and eliminate bottlenecks and risks and understand where you can drive the greatest long-term impact, which is at the point of design. For example, de-risking the BOM by qualifying backup component suppliers so it's possible to pivot to procuring from them instead quickly if a problem occurs with a primary supplier is an important way to reduce risks.
17:43 - Is the 'US/China trade war' an ongoing risk that electronics importers should be wary of? The total impact of the transition out of China in the last few years has been less than 10% on aggregate, so the idea that decoupling from China will happen rapidly is unrealistic. Rather than uproot from China, Richard has seen additional costs absorbed by manufacturers or passed on to customers and he predicts seeing more of the same. 
22:52 - Some interesting dynamics that are not impacted directly by trade-policy. 2021 is a turbulent year: we're reducing COVID restrictions, working from home, especially skilled digital work, has exploded, autos are now starting to pick up, hospitality, too, will be, so there's a V-shaped recovery. He sees a shift in key component and commodity categories being reallocated into other more reliable and profitable industries, such as from consumer electronics to autos or medical technology. There is a resetting of what is 'just-in-case' VS 'just-in-time?' 'What is the appropriate inventory buffer we need?' 'How do I negotiate my agreements to balance risk-sharing rather than just chasing the lowest cost?' Etc.
26:25 - Why some companies simply weren't prepared for the pandemic. Even the largest companies often hadn't done business continuity planning around pandemic response, so smaller tech startups have certainly faced substantial risks. Therefore aligning and synchronising recovery with what's driving demand, and focussing on reducing lead time, bottlenecks and other risks, as well as reviewing design in order to build risk-reduction into the design itself are the key takeaways here.
28:10 - What is 'Design To Source Intelligence?' Explaining the new form of intelligence that is about finding new insights to influence decisions and be more effective in the global electronics value chain based on a distillation of information from big data including market demand, costs, and much, much more that perhaps wasn't available to most importers until recently.
30:45 - Wrapping up
Related content...
You will also like this series of blog posts on supply chain risks management that Renaud wrote, which includes topics like what black swan events like the pandemic could be described as being, business continuity planning, the benefits of supply chain scorecards, and more.
Get in touch with us
Get even more great content or assistance with your own project
Subscribe to the podcast 
There are more episodes to come, so remember to subscribe! You can do so in your favorite podcast apps here: