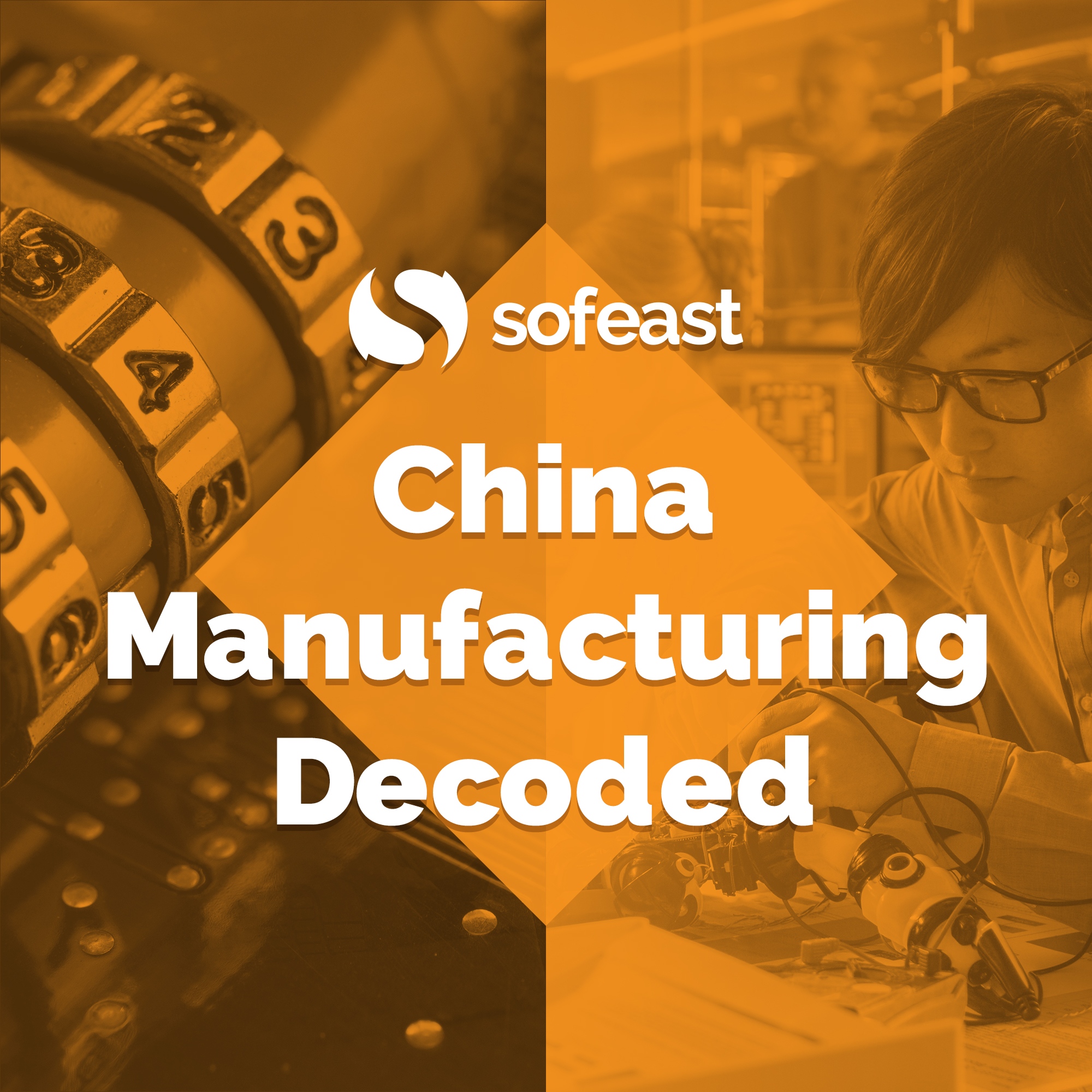 Join Renaud Anjoran, Founder & CEO of Sofeast, in this podcast aimed at importers who develop their own products as he discusses the hottest topics and shares actionable tips for manufacturing in China & Asia today! WHO IS RENAUD? Renaud is a French ISO 9001 & 14001 certified lead auditor, ASQ certified Quality Engineer and Quality Manager who has been working in the Chinese manufacturing industry since 2005. He is the founder of the Sofeast group that has over 200 staff globally and offers services (QA, product development & engineering, project management, Supply Chain Management, product compliance, reliability testing), contract manufacturing, and 3PL fulfillment for importers and businesses who develop their own products and buyers from China & SE Asia. WHY LISTEN? We'll discuss interesting topics for anyone who develops and sources their products from Asian suppliers and will share Renaud's decades of manufacturing experience, as well as inviting guests from the industry to get a different viewpoint. Our goal is to help you get better results and end up with suppliers and products that exceed your expectations!
Episodes
Wednesday Oct 07, 2020
In This Episode...
Today we're discussing compliance testing.
Compliance testing is not only a crucial tool for reducing product risks and assuring their safety, but it also enhances consumer trust and confidence in your brand which is ever more valuable in today's world.
You'll carry out tests on your products to assure that they're safe, don't include restricted materials, and are saleable in your markets. Tests may also include your packaging, too. Jump into the episode to start to explore just why this testing is an important step that YOU need to be in control of.
Show Notes
0:00 - Podcast & topic intro + introduction product tests. Defining what product tests are into roughly 2 large families of tests, reliability tests and compliance tests. Includes some examples, such as drop tests. Why many compliance tests are dictated by consumer safety regulations which can be rather country and product-specific.
07:00 - Why not all compliance testing leads to certifications and examining what a test report is. The big difference between a test report and a full certification. Why test reports may not be trustworthy...what to be cautious of, such as NOT getting a test report from a supplier (the level of trust you have with a supplier is connected to the manufacturing contract you have with them).
14:19 - Exploring what 'certification' means. This is more serious than a 'test report.' They tend to be product-specific and are done towards the end of the development stage of a new product. A lab will test the products AND provide certification to a certain standard which is more complex and with increased oversight.
They often look at manufacturing processes and systems and so are more difficult to obtain. 
15:48 - The benefits of regularly testing to a certification's standard. This isn't the same as becoming certified, but it will provide oversight on production runs to assure that they remain compliant and safe. A random testing regime is better if testing 100% of batches aren't possible. Not testing and/or letting your supplier know when products are or are not being tested opens you up to abuse.
17:53 - Is it 'safe' to use Chinese testing labs? Many larger companies prefer testing in Hong Kong as they have trust issues with mainland labs in general. Chinese labs' internal control may not be as high as foreign names, but they're likely to be cheaper. Checking that the lab is certified to ISO 17025 and checking that their nominated scope applies to your product type is a 'must do.' Where to find lists of accredited labs. A few horror stories about a lack of integrity in labs.
24:36 - Vetting the right lab. Discussing best practices for when trying to find the right lab for your compliance testing.
26:09 - How do buyers know what kind of testing and certifications they require? Many resources exist online in paid and free formats for buyers to research the right standards that apply to their products. You can speak with people who have been there and done it before. There's also the option of working with companies like Sofeast or Compliancegate on your project to assure the correct testing and procedures are followed for your compliance. A good tip is to request quotations from testing labs - this will provide you with the tests they believe you require to be compliant (this may vary from lab to lab).
The dangers of doing 'too many tests' as this can get quite expensive and they may not all be strictly necessary.
31:28 - Would you instruct factory auditors to focus on the key tests and standards products must undergo and comply with? Yes, auditors can bear these in mind during the initial vetting process, or ongoing factory audits on a factory who has been producing for you over time. Checking if the factory is doing the testing that they have, say, committed to do is just another process to check during process audits, for example.
34:24 - What information should you provide to testing labs when requesting a quotation? Giving you a helpful list of the product-specific information points to prepare, such as region for sale, materials, image, instructions, etc.
35:47 - Wrapping up - knowing your risks and why compliance testing protects you. A serious compliance issue can be enough to kill a company and the supplier usually doesn't share responsibility. Reiterating that for safety's sake YOU need to control the compliance testing process, not leave it to your supplier. Also, your own certification (with your name on it, not your supplier's) can also be used to market your product.
Extra information you may find helpful
Get in touch with us
Get even more great content or assistance with your own project