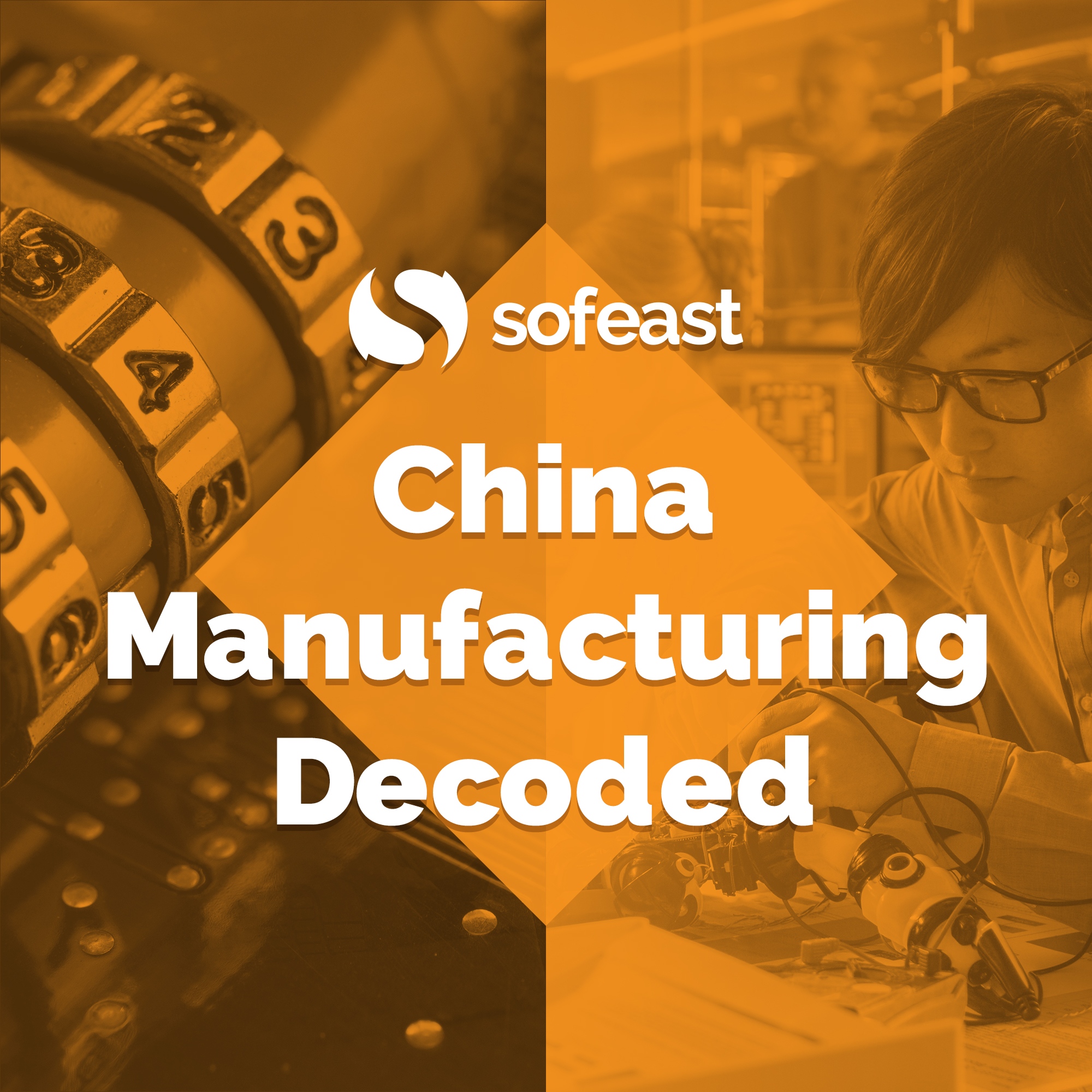 Join Renaud Anjoran, Founder & CEO of Sofeast, in this podcast aimed at importers who develop their own products as he discusses the hottest topics and shares actionable tips for manufacturing in China & Asia today! WHO IS RENAUD? Renaud is a French ISO 9001 & 14001 certified lead auditor, ASQ certified Quality Engineer and Quality Manager who has been working in the Chinese manufacturing industry since 2005. He is the founder of the Sofeast group that has over 200 staff globally and offers services (QA, product development & engineering, project management, Supply Chain Management, product compliance, reliability testing), contract manufacturing, and 3PL fulfillment for importers and businesses who develop their own products and buyers from China & SE Asia. WHY LISTEN? We'll discuss interesting topics for anyone who develops and sources their products from Asian suppliers and will share Renaud's decades of manufacturing experience, as well as inviting guests from the industry to get a different viewpoint. Our goal is to help you get better results and end up with suppliers and products that exceed your expectations!
Episodes
Friday Mar 12, 2021
In This Episode...
Design For Quality is a process we follow in order to design good quality into products at the early concept and prototyping stages during the new product introduction process.
You will probably be surprised as to how many design points need to be considered in order to have a mature product design that can be mass-produced with the minimum of quality problems, defects, safety issues, and more.
Our CEO Renaud has worked with clients on numerous products over around 2 decades in Asia and performing thorough DFQ reviews on their product designs is one of the key tools in Sofeast's armory when it comes to bringing great quality products to market. So, in this episode, he shares the lowdown on this important quality process.
Show Notes
00:00 - Introducing the episode 
01:14 - Why is the design stage of the new product introduction process so important? - Renaud gives a lot of background about what goes into product design and how the decisions you make about materials and processes impact product quality (considering 'what could go wrong based on what we know about them?'). Also, he explains the difference between manufacturing quality issues and design deficiencies.
09:14 - DFQ reviews often happen before you invest in the tooling. Here's why... - Tooling is very expensive, so making changes to the design before it's made is really preferable, but most Chinese manufacturers are not good at providing feedback on designs that can cause costly manufacturing issues (like scrap and rework).
11:30 - Changes are quick and cheap at the concept stage, but later on are an expensive problem - Renaud discusses this point which is also illustrated in this graph:
14:30 - What are the principles in DFQ that we follow when reviewing our product and its design? 
Understand past issues and learn from mistakes.

Identify issues as early as possible and ensure they are 'designed out' of the product (you can't inspect quality into a product).

Use error-proof design techniques - this will reduce scrap and rework for a start, so use fixtures that only allow operators to assemble parts in the correct way, for example.

Simplify the design to reduce quality issues, (one piece is better than two, fewer functionalities may be better overall)

Have robust tolerance understanding for each part.

Standardize parts where possible (try to reduce the number of custom parts and use off-the-shelf ones instead) - this also reduces supply chain risk, too.

Have a multi-functional team - try to get involvement from a number of different staff in the DFQ review, including design, engineering, and, importantly, manufacturing staff, too, as they know the production processes best.
24:11 - If you're manufacturing a new product, who can you rely on for information about your product at an early stage? - Manufacturers often say that they do a DFM/DFQ review, but they don't always take it very seriously. So a common concern is how reliable the review was. Therefore many importers choose to work with a specialist 3rd party engineering firm to help them perform a DFM review and assist with their product R&D (our company Sofeast is one example) in addition to their manufacturer.
27:32 - Some common mistakes that cause poor-quality products (that we try to weed out with a DFQ review):
Putting the incorrect tolerances on mechanical drawings.
Relying on prototypes' tolerances for critical dimensions when going into mass production (as prototype production is not the same as mass production).
Relying solely on feedback from designers about the product - they might think the product is designed beautifully, but it's not easy to use. In this case, it's still a quality fail for end-users as they won't enjoy using the product.
Not performing accelerated 'stress testing' to confirm serious weaknesses in the product's design - a product needs to be able to survive for a reasonable amount of time when being used by the end-user, so the normal usage needs to be tested (such as testing an office chair being sat on thousands of times to simulate its use over a number of years).
Confirm through reviews that the design is suitable for the manufacturing processes used and will result in good quality products - pilot runs which are observed by a quality engineer are a good way to assess this.
Not performing compliance testing - this could cause safety issues which lead to you being sued or getting your products stopped by customs. Either way, both circumstances are costly and damaging.
36:58 - Some examples of how DFQ reviews have improved products before they went into production - since this is something we actively do, Renaud shares some real-life examples, and more. Includes hazardous battery design (think Note 7), brittle magnets, products that need to be waterproof, and more.
39:54 - You may get helpful feedback from component/material sub-suppliers - good feedback can be found by forcing a dialogue with sub-suppliers which Chinese manufacturers may not do in their haste to go to mass-production. But if these sub-suppliers are specialists in the component or material in question they may have some very helpful advice about how the product design best makes use of the component/material in order to reduce quality issues during production.
40:47 - Wrapping up
Related content...
Get in touch with us
Get even more great content or assistance with your own project
Subscribe to the podcast 
There are more episodes to come, so remember to subscribe! You can do so in your favorite podcast apps here: