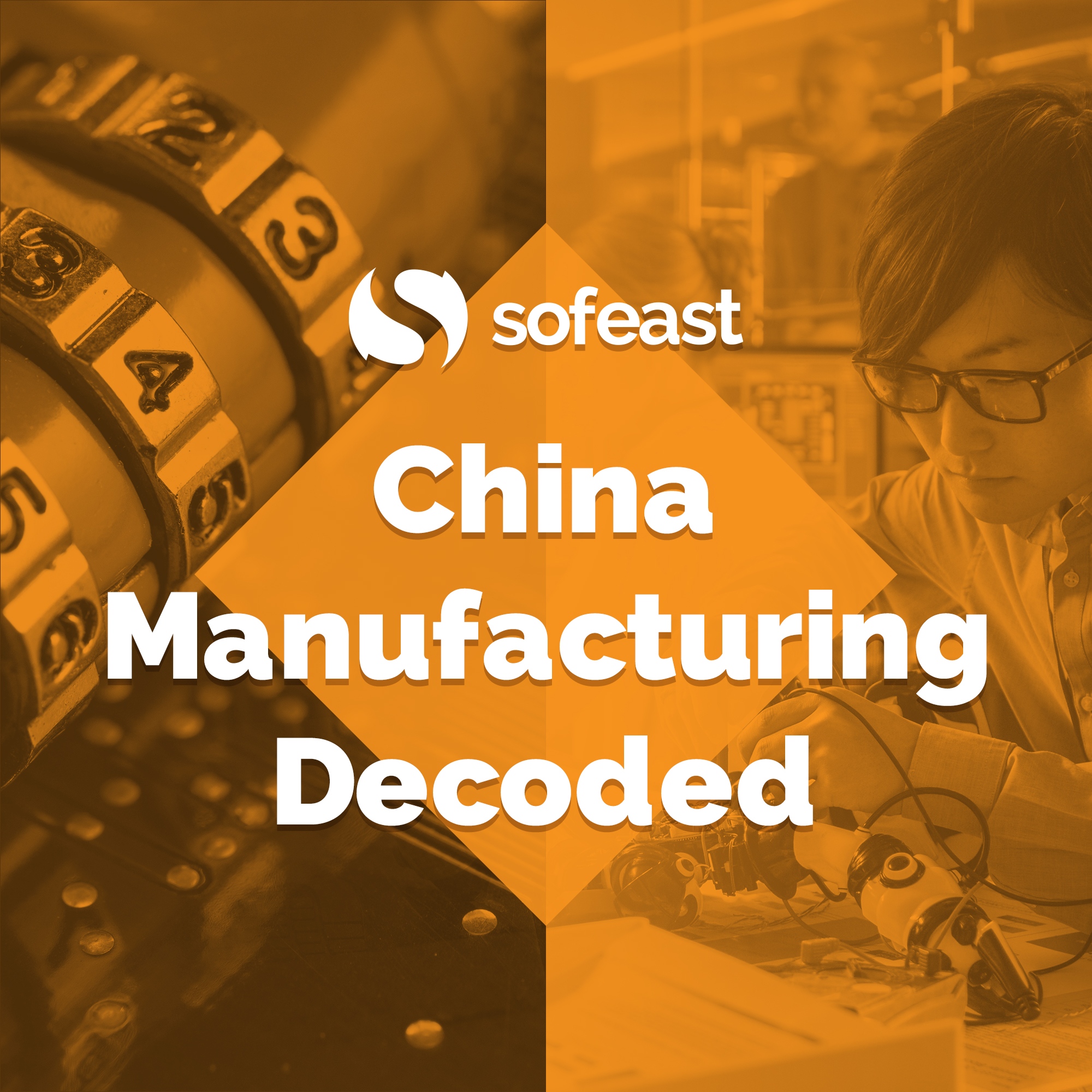 Join Renaud Anjoran, Founder & CEO of Sofeast, in this podcast aimed at importers who develop their own products as he discusses the hottest topics and shares actionable tips for manufacturing in China & Asia today! WHO IS RENAUD? Renaud is a French ISO 9001 & 14001 certified lead auditor, ASQ certified Quality Engineer and Quality Manager who has been working in the Chinese manufacturing industry since 2005. He is the founder of the Sofeast group that has over 200 staff globally and offers services (QA, product development & engineering, project management, Supply Chain Management, product compliance, reliability testing), contract manufacturing, and 3PL fulfillment for importers and businesses who develop their own products and buyers from China & SE Asia. WHY LISTEN? We'll discuss interesting topics for anyone who develops and sources their products from Asian suppliers and will share Renaud's decades of manufacturing experience, as well as inviting guests from the industry to get a different viewpoint. Our goal is to help you get better results and end up with suppliers and products that exceed your expectations!
Episodes
Wednesday Sep 09, 2020
In This Episode...
This podcast uncovers everything importers are likely to need to know about management system standards. We'll discuss key standards, their benefits (for both manufacturers and buyers), good and bad ways to implement them, auditing them, and more.
What are management system standards?
Certifications of these standards are achieved by organizations to demonstrate that they're able to perform the tasks required to achieve their objectives or those of their clients and/or drive improvements in a certain area. An example would be the ISO 14000 family which relates to environmental management being adopted by a manufacturer whose factory must limit pollution and other negative environmental impacts in order to be able to work for an environmentally-conscious client. 
When a supplier is certified for a standard this will allow a buyer to feel confident in working with them if this standard is important to their business, therefore it's one factor to consider as part of the vetting process.
Show Notes
Start to 4:04 - Introduction - explaining why management system standards are important to pay attention to, especially when vetting new suppliers or auditing your own operations (as they can form the basis of an improvement checklist).
4:04 to 09:50 - Tying in management system standards to working with Chinese suppliers specifically - the difference between adhering to a standard and being officially certified. Where to check certifications if they're claimed. The role of standards in building client confidence. Warning about fake certificates and those provided by companies who are less credible.
09:50 to 14:07 - Key management system standards - all of these are sets of requirements with different purposes:
ISO 9001 - the basis for many standards due to its framework. Quality management system standard for an organization to adopt when focusing on its customer's needs and improving.
Other QMS standards specific to certain industries, like ISO 13485 for medical devices, IATF 6949 for the auto industry's components, and others such as for aerospace.
ISO 140001 - environmental management / friendliness
ISO 45001 - occupational health & safety
ISO 27001 - information security
In Chinese factories, ISO 9001 & 14001 are usually the most commonly adopted certifications as foreign clients often demand these before for working with them and so they are more appealing if they hold these certifications.
14:07 to 18:40 - Does the Chinese government's focus on the environment provide an impetus for manufacturers there to gain environmental management certifications? - discussing the government's environmental regulations and enforcement in recent years and how effective this has been. Why ISO 14001 certification would make sense for companies who are close to the limits of environmental regulations in China. Positive global recognization of greener companies, like Patagonia.
18:40 to 30:40 - Certifying to multiple standards - if a company wishes to certify to more than one standard it is possible to do this without an enormous amount of work as many standards are quite similar in many ways. Also, discussing the differences between good and bad implementations - explaining how you can save time and money in a 'good implementation.'
25:05 to 29:03 - Why and how certifying bodies and auditors often push in the wrong direction - how they can sometimes drive clients to do everything from scratch unnecessarily costing them extra money! What a good certifying process looks like. Being wary of being in a position where you're overpaying certifying bodies.
29:03 to 30:00 - Does the certification process vary a lot per certifying body? - why their similarities prevent this from being particularly problematic.
30:00 to 35:25 - The logical path for learning more about standards - the same bodies do the training and the certifications and often push companies to purchase a standard to learn from, then implementation training, and then learn how to do the auditing by doing internal and then lead auditor training. How all of these activities don't necessarily make sense and can be very expensive, especially if you have some understanding or past experience in implementing standards. It's also possible to find a lot of the information you need for free online in order to start the learning process.
35:25 to 46:21 - Why and how are audits of the management systems carried out? - explaining the difference between 1st (internal audit by supplier's own staff), 2nd (customer sends an employee or uses an external agency like Sofeast to go an audit the supplier), and 3rd party audits (auditor from a certifying body goes in to perform the audit sticking strictly to the standard's clauses), and their benefits and drawbacks.
Auditing will help buyers to vet new suppliers (a higher score than other options being favorable) or can help keep the pressure on current suppliers to assure that they maintain the standards you require.
46:21 to END - How auditors can help to suggest improvements for the future - this is especially the case when working with 2nd party auditors and using the audits as a part of an improvement program.
Extra information you may find helpful
Get in touch with us
Get even more great content or assistance with your own project