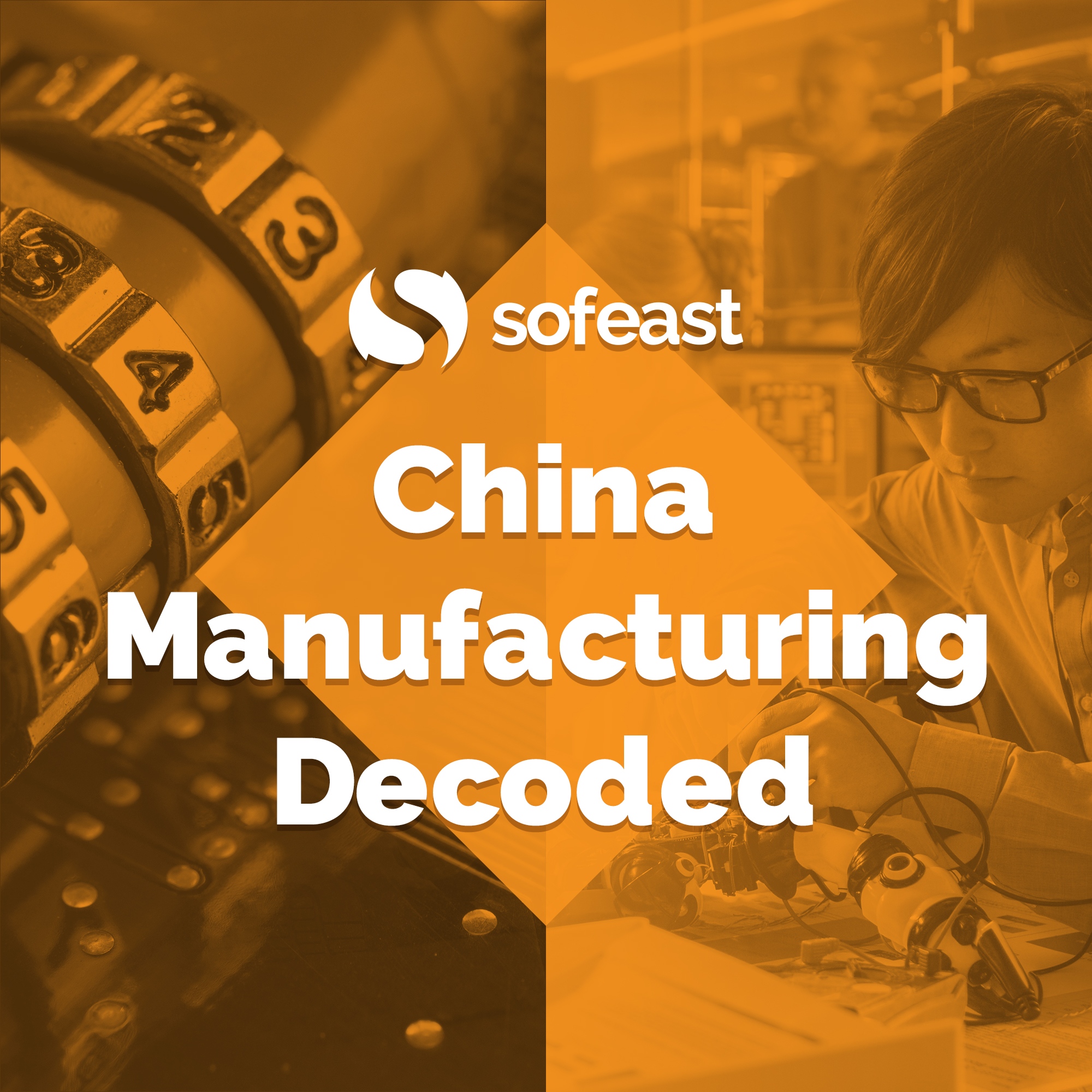 Join Renaud Anjoran, Founder & CEO of Sofeast, in this podcast aimed at importers who develop their own products as he discusses the hottest topics and shares actionable tips for manufacturing in China & Asia today! WHO IS RENAUD? Renaud is a French ISO 9001 & 14001 certified lead auditor, ASQ certified Quality Engineer and Quality Manager who has been working in the Chinese manufacturing industry since 2005. He is the founder of the Sofeast group that has over 200 staff globally and offers services (QA, product development & engineering, project management, Supply Chain Management, product compliance, reliability testing), contract manufacturing, and 3PL fulfillment for importers and businesses who develop their own products and buyers from China & SE Asia. WHY LISTEN? We'll discuss interesting topics for anyone who develops and sources their products from Asian suppliers and will share Renaud's decades of manufacturing experience, as well as inviting guests from the industry to get a different viewpoint. Our goal is to help you get better results and end up with suppliers and products that exceed your expectations!
Episodes
Wednesday Oct 14, 2020
In This Episode...
You're listening to part 8 of our guide to the effective vetting of Chinese suppliers that will help you to find the best possible manufacturer for your products.
In this episode, we're discussing factory testing facilities and how they can help you to assess how capable a supplier is. Ask the question: "How can this supplier know that their product is good if they're unable to test that products reach my specifications, quality, and safety requirements?"
So, when vetting a supplier, paying attention to their testing facilities is a worthwhile step either for yourself (if you're visiting a factory in person) or for your auditors who assess the supplier on behalf, as their professionalism in testing speaks for their overall ability and quality-consciousness.
Show Notes
00:00 - Intro and catch up about the state of things in Hong Kong and China re: manufacturing and restrictions to visiting these days (late 2020).
03:33 - What testing gets done in a factory (or not) and why is this important to pay attention to? Some Chinese suppliers won't do much more than a visual check on products before shipping. Therefore this possible lack of testing can cause problems for the buyer if a supplier doesn't check components, materials, or finished products. Therefore auditors will be interested in in-house testing equipment and its processes and condition.
08:00 - Why checking the factory's testing equipment is the easiest way to flag a manufacturer that doesn't care about quality (if it's unused or in poor condition this should tell you what you need to know).
09:11 - If your supplier conducts its own testing and provides you with a test report or self-declaration certificate of some kind, what are you looking for here? Firstly, this is a good sign that they take quality and compliance seriously. Secondly, if you were, say, sued and in court, after a product caused an injury, what you as the 'supplier' did to ensure consumer safety would be investigated and product testing reports from your supplier would be of benefit to you to dispel accusations of negligence. Thirdly, ideally, you will also conduct your own lab tests on some random samples picked from the batches in addition to your supplier's in-house testing, as this provides you with solid evidence of product quality, safety, and compliance that cannot be 'tampered with.' 
13:03 - Some examples of testing for different types of products and some key observations about what suppliers may or may not do in these cases:

Key point: If a supplier shows you some fancy testing equipment, make sure that they can back up its use by showing you accurate results.
20:50 - Do even very simple products call for a supplier to require in-house testing facilities? Some tests, such as chemical tests will need to be in a lab so this kind of equipment likely will not be in-house. A better way to look at this is how often you're likely to need to do the tests - on simpler products it would perhaps be less so. Therefore, conducting occasional tests in a 3rd party lab would be fine as the expense of purchasing in-house testing equipment may be prohibitive for a supplier in this case.
23:07 - Is it helpful to have a supplier's test reports in hand when you go to a laboratory to conduct your own tests on the product samples? While having a test report from a client is useful as we discussed earlier, you should not need it to know which tests to perform. In order to buy from China safely, you need to be fully aware of the kinds of tests your product is required to undergo in order to be compliant and safe (so you're not taking a supplier or lab's word for it alone).
24:49 - The risks of 'buying cheap stuff from China' without understanding your liabilities as an importer and what kind of testing is required. An example: The very unbalanced PPE industry has now got a lack of trust on both sides, which has been increased by people rushing into buying without performing the necessary checks.
27:22 - Why the testing of high-risk products is all the more important based on the experiences in the PPE market in 2020. 
28:12 - Some examples of the testing equipment you'll typically find in factories which produce products with common processes, such as electronic assembly, injection molding, etc. Smaller factories often won't be proficient in testing at all, but larger factories often have sophisticated and expensive testing equipment in the factory. 
33:51 - Conclusion: Factory testing facilities and in-house tests are useful in a vetting sense as they help you to assess supplier proficiency and red flag those that aren't quality-conscious.
Extra information you may find helpful
Get in touch with us
Get even more great content or assistance with your own project
Subscribe to the podcast 
There are more episodes to come, so remember to subscribe! You can do so in your favorite podcast apps here: