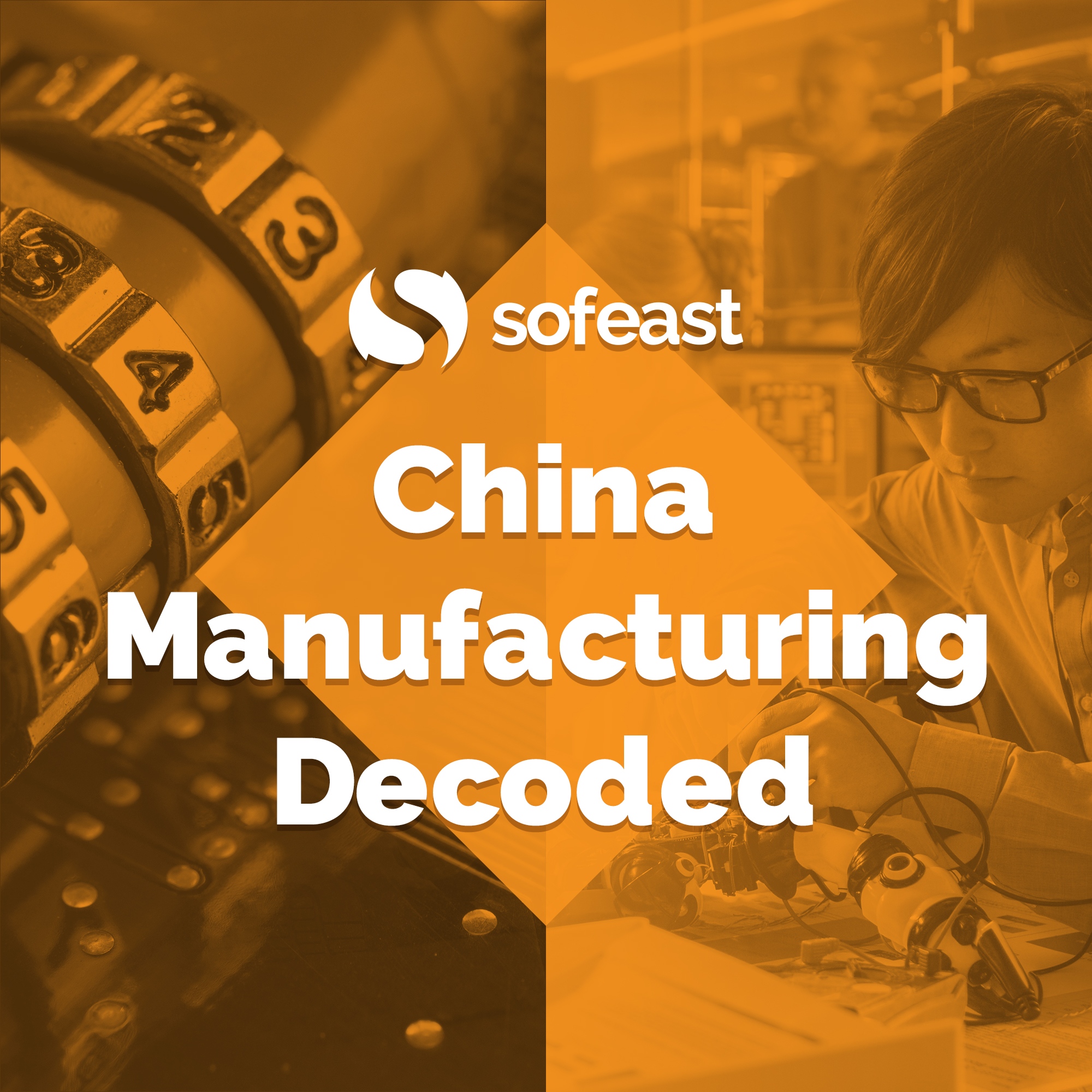 Join Renaud Anjoran, Founder & CEO of Sofeast, in this podcast aimed at importers who develop their own products as he discusses the hottest topics and shares actionable tips for manufacturing in China & Asia today! WHO IS RENAUD? Renaud is a French ISO 9001 & 14001 certified lead auditor, ASQ certified Quality Engineer and Quality Manager who has been working in the Chinese manufacturing industry since 2005. He is the founder of the Sofeast group that has over 200 staff globally and offers services (QA, product development & engineering, project management, Supply Chain Management, product compliance, reliability testing), contract manufacturing, and 3PL fulfillment for importers and businesses who develop their own products and buyers from China & SE Asia. WHY LISTEN? We'll discuss interesting topics for anyone who develops and sources their products from Asian suppliers and will share Renaud's decades of manufacturing experience, as well as inviting guests from the industry to get a different viewpoint. Our goal is to help you get better results and end up with suppliers and products that exceed your expectations!
Episodes
Wednesday Nov 18, 2020
In This Episode...
Sofeast's CEO, Renaud, and Adrian from the team discuss everything buyers should know about quality control plans. A QC plan lists all the quality-related checkpoints to be passed during/after a production run. Depending on the buyer's situation (which include factors like order size and value), it can include process, product, or legal checkpoints. Approving QC plans is an essential step before production is allowed to start as you'll see as we go through the topic.
There are three types of quality control plans we'll be discussing:
The product quality control plan to include in a contract with a Chinese supplier which demonstrates the buyer's expectations for the supplier regarding quality, inspection, and production activities.
The process control plan that decomposes production in each process step (often called control plan).
The QC plan for a new product being brought to market which outlines in black and white the manufacturer needs to know in order to produce goods at the right quality.
You'll learn when these plans are appropriate, or, conversely, if there are buyers who don't require them.
Show Notes
00:00 - Introduction.
00:56 - What are QC plans and why are they important to agree on before production starts? A summary of QC plans and for which kind of orders they'd be most appropriate.
03:09 - Discussing the 3 types of QC plan and the different contexts they're used in.
03:48 - 1. The product quality control plan that makes up a part of the manufacturing contract. Defines legalities around access to the facility, testing, product compliance expectations, who pays for testing, what happens if products fail quality tests and don't reach the quality standard, and more.
07:18 - 2. The process control plan. This is a core tool for the automotive industry but can be used by any buyer if their orders are large or expensive enough to warrant a deep investigation into planned production processes in order to ensure quality throughout. Plan what is expected at each production step, how it can be checked, and what to do if an issue is found, and document all of this in the plan. This also applies to upstream suppliers if you're taking quality very seriously.
(Read this blog post for more info on setting up your process control plan: 11 Steps To Set Up a Process Control Plan)
13:13 - How to identify suppliers who are capable of adhering to a stringent process control plan? 2 ways, process audits and a tip from Renaud to do it in a simpler way.
15:02 - 3. The QC plan for when developing a new product. This clarifies your needs and takes the form of a number of questions, which we list and discuss in this section, about quality in a type of checklist that the manufacturer really needs answers to have answers to (or be able to answer) before proceeding. It forces both buyer and supplier to think deeply on how to assure the best quality possible when manufacturing a product which is new on the market. (You can see an example QC plan for a new product in this blog post which this episode is based on).
22:46 - How Chinese suppliers' culture can be to disregard planning ahead for quality and instead focus on fixing issues later as they occur. Hint - this flexible approach isn't a good thing, especially for new, complex products.
25:01 - The dangers of not going through the QC planning process with Chinese/Asian suppliers. They will be very encouraging which can lead some buyers to trust in their expertise, but this can be a trap because it's on YOU to define a quality standard and expectations for the supplier to follow, not to be led by them as their ultimate interests may not align with yours as less specific requirements give them more opportunity to cover themselves should they do something wrong.
27:35 - Are all 3 QC plan types appropriate for all kinds of buyers? The product quality control plan (1) should usually be implemented for any size of order if possible, as it's good to have quality expectations in your contract with the supplier. The process control plan (2) is usually more appropriate for buyers with high quality requirements who place large orders (in the tens of thousands of pieces at least). The QC plan for new products (3) is appropriate for buyers developing and launching new products onto the market. 
30:55 - Why buyers with large order MUST have a quality standard. For instance, POs in the hundreds of thousands of dollars.
31:12 - What should buyers of existing products (such as off-the-shelf items to be rebranded) be focusing on when it comes to quality? QC plan 1 for the manufacturing contract's terms is still helpful, as is creating a quality standard and documenting any quality issues from the supplier on an ongoing basis. But as a distributor, you will be unlikely to have much of a say about their manufacturing processes or new product development method.
Extra information you may find helpful
Get in touch with us
Get even more great content or assistance with your own project
Subscribe to the podcast 
There are more episodes to come, so remember to subscribe! You can do so in your favorite podcast apps here: