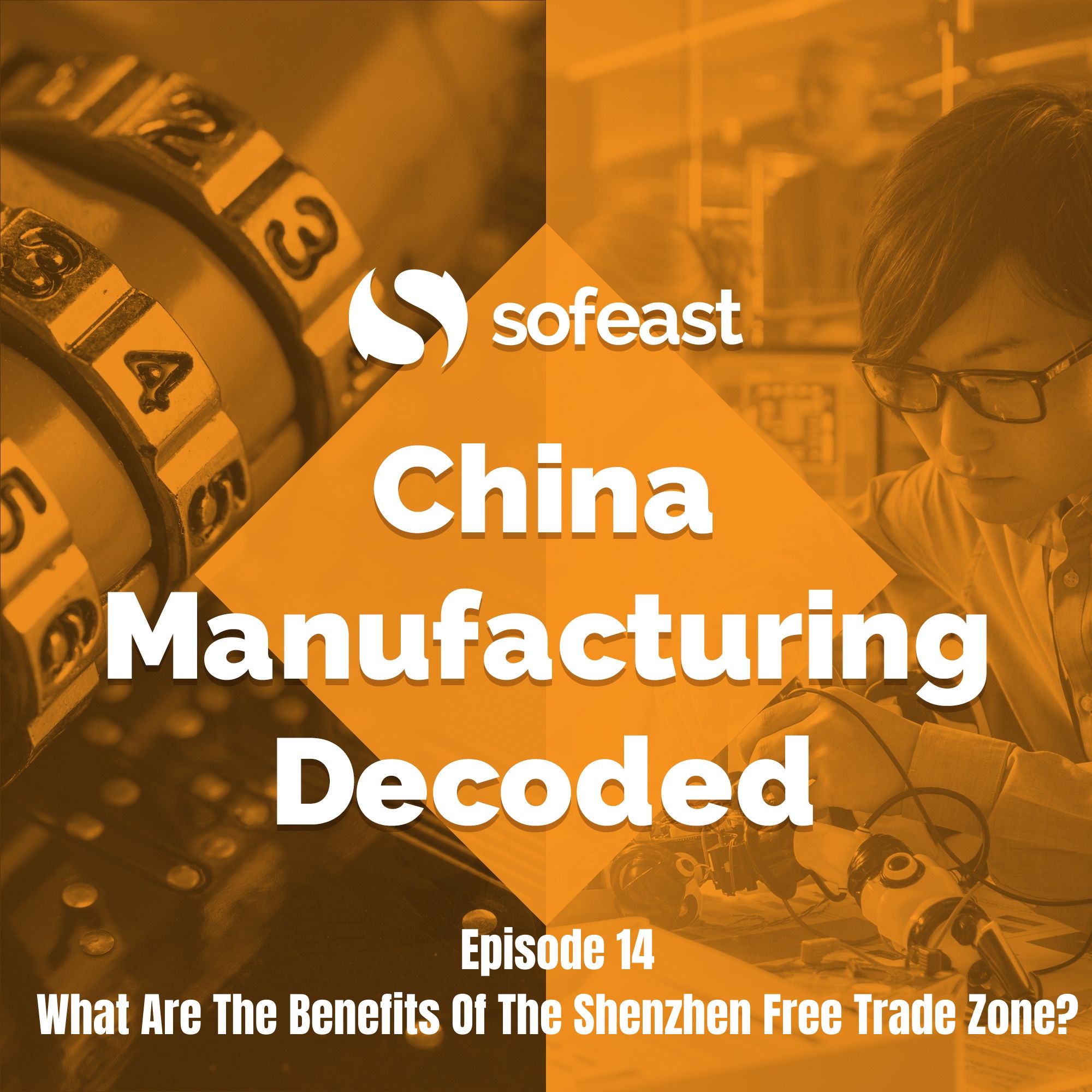 In This Episode...
What is so useful about free trade zones in China?
Why should importers with Chinese suppliers consider utilizing them?
Sofeast has recently opened an RMA and fulfillment facility in Shenzhen's Pingshan Free Trade Zone, so, based on our experience there, we're going to explain the benefits.
Hopefully, after listening to this episode, so you will understand if using warehousing, RMA, and fulfillment in the FTZ is better for your business in terms of costs, time, and effort than in China-proper.
Show Notes
Start to 6:27 Introduction into what Free Trade Zones are.
6:27 to 9:01 - FTZ RMA facility is better than local ones (such as in the USA) due to far lower costs and proximity to your suppliers. 
9:01 to 10:42 What does the inspection, sorting, and repair/rework process that the FTZ is perfect for look like?
10:42 to 11:52 Rather than using a local rework company, sending defective pieces back to the FTZ means your supplier can take responsibility and send their own staff to do the repair/rework. How does this work?
11:52 to 12:08 There was a lack of repair services in China, until now..!
12:08 to 15:01 Suppliers deliver finished products/components to the FTZ and they have 'exported' - can apply for VAT rebate and request payment by customer - they like this and it can help you to have a better relationship with the supplier. Our FTZ facility can store your goods (it's cheaper than locally or even other places in China) and fulfill them as per your needs, so you rely less on the supplier to get things right or safely store your products (the supplier's warehouse may be damp, may not be insured against fire, etc). It's suitable for batches of products of a certain size, but not dropshipping piece by piece (we handle this from our Dongguan contract manufacturing facility)
15:01 to 17:00 If importers have the need to bring together orders components/products and ship them out from China in batches, using a FTZ fulfillment center can improve relationships and results from suppliers.
17:00 to 19:49 If you use a 3rd party (such as our company) to act on your behalf from the FTZ to deal with your supplier Chinese-company to Chinese-company - this allows easier payments, invoicing, and builds more trust with the supplier who knows that they can take legal action against us if we, say, do not pay them (much harder for them to do against foreign companies), therefore they are more likely to offer preferential credit terms and other benefits to you. Therefore using a dedicated 3rd party China buying office in conjunction with the FTZ location is helpful.
19:49 to 21:15 An FTZ location allows you to receive components and goods from different suppliers without letting them know important information such as your IP, product type, other suppliers, costs, your retailers, etc. Overall, this helps protect you against suppliers using your designs or undercutting you in your market by selling cheaper.
21:15 to 22:15 If some parts come in from suppliers in a foreign country, let's say somewhere like Vietnam, to be assembled with other from China, is it worth paying fees to import them to China and spending the time to go through Chinese customs? By utilising a Free Trade Zone facility, this cost can be avoided.
22:15 to 23:29 Customs clearance - are there tangible reductions to delivery times due to the FTZ's reduced bureaucracy in regards to customs clearance?
23:29 to 26:24 Do the Chinese FTZs eat into Hong Kong's status as a free port where there are also lower import/export duties and processes? Hong Kong still has benefits, but labor costs there are high.
26:24 to END Summarising the benefits of the FTZ - where is the Pingshan FTZ in Shenzhen located? Take a look at this map for a rough idea (you can see how close it is to Yantian port).
Extra information you may find helpful
Get in touch with us
Get even more great content or assistance with your own project